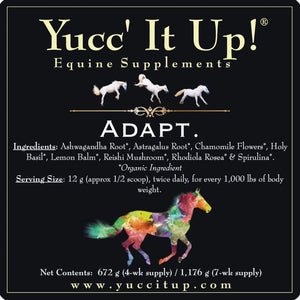 Adapt. is designed to strengthen the overall immune system and help the body better adapt to stress, come into balance and achieve homeostasis. 
Adapt. is made with our favorite tonic, adaptogen and nervine herbs. Tonic herbs build, strengthen and nourish tissues, restoring tone and function; adaptogens offer strength, stamina and stress relief; nervine relaxants provide calming support for the nervous system. 
Adapt. blend is relaxing, soothing, strengthening to the immune system, helps with inflammation, supports balanced hormones and more.
Intended for anxious horses, horses who need help transitioning from a high stress situation or horses with a weakened immune system. Adapt. can help reduce high cortisol levels, nourish the adrenals, calm the nervous system, increase circulation & promote overall wellbeing. 
Managing the physiological response to stress can help one become comfortable again in their own skin & less reactive to stressful situations.
Additionally, Adapt. can help horses with Cushing's disease by strengthening the immune system, supporting healthy weight maintenance, appropriate growth in the coat and more. Strengthening the immune system is critical for horses with Cushing's as they're dealing with a weakened immune system, prone to infection and more.
Benefit Highlights:
Relaxes the mind

Calms the nervous system

Supports a happier disposition
Helps reduce high cortisol levels

Nourishes the adrenal glands

Supports balanced hormones (including cortisol, 'the stress hormone')

Supports digestion, coat health & weight maintenance for Cushing's horses
Strengthens overall immune system
Ingredients: Ashwagandha Root*, Astragalus Root*, Chamomile Flowers*, Holy Basil*, Lemon Balm*, Reishi Mushroom*, Rhodiola Root* & Spirulina*. *Certified organic ingredient. (This is a powdered, herbal blend.)
Serving Size: 12 g (approx 1/2 scoop), twice daily, per every 1,000 lbs of body weight.
Storage: Please store in a cool, dry place.
Adapt. pairs well with our Magnesium Glycinate, Natural Vitamin E, MSM, Kelp & Signature Nuggets for a higher level of support.
Contraindications: Halt use in acute bacterial or viral diseases (astragalus).
Trial Testimonials:
"Adapt. has definitely improved Cosmo's grumpy attitude, and he seems much happier about being touched and brushed."

-Sarah B., (has an anxious gelding)
"THIS STUFF WORKS AMAZING! Here are the biggest things I noticed when they weren't on Adapt... weird hairs growing in random places instead of a nice, even winter coat and trouble gaining / keeping weight on. Now that they're on Adapt., they have beautiful winter coats coming in evenly and are gaining back lost weight and muscle!" 
-Lindsay A. (has horses with Cushing's disease)
Related: Check out our educational blog on the benefits of adaptogen herbs here!